Complete VoIP Phone Systems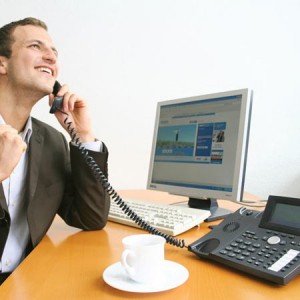 Trinicom Communications LLC provides hosted VoIP (Voice over Internet Protocol) – SIP (Session Initiated Protocol) phone systems (PBX) for your business in the Houston area. With Trinicom, you can say goodbye to the expense, maintenance and continuously outdated equipment that are part of owning a phone system.
Using the industry standard SIP technology, you are able to take phones to any broadband connection and simply "plug and play". Trinicom hosts the phone system for you, we do all the updates for free and you will never have to buy a phone system again!
Trinicom's Cloud based phone systems can bundle with your existing or new Internet connection. Our fault tolerant 100% fiber optic network combined with traditional switched dial tone carriers help to insure that your important business phone calls will not drop or become a garbled mess! And yes, keep your existing phone numbers.
Hosted VoIP Phone System Features
Port your existing phone numbers
1-800 compatibility
Free use of VoIP phones with service
Complete end to end management or adds/changes and hardware warranty is included
VoIP with SIP enables Plug and Play phone portability
Auto Attendant, Voicemail to email, Hold Music, Conferencing, Cell Phone Forwards all included
True business grade Extension Based Phone system (PBX)
Voicemail to email, Caller ID
No Long Distance for extension to extension calling
Feature-rich, user-friendly IP phones
911 features available
Hosted VoIP Phone System Benefits

Low Capital Expenditure for communications
Single source for Internet, Dial Tone, Hosted Phone PBX, Long Distance
Great for companies with a remote workforce, tie your workforce together
Flexible and scalable system to facilitate moves, adds, or changes
Tie in multiple locations to one system without costly dedicated lines
No more costly maintenance for traditional systems
Do you have a VoIP Phone system you need collocated? we can collocate your phone server for you for reasonable rates.
Please contact us for a free a consultation in Houston at 713-375-1801 or toll free at (888) 896-1653 ext 101 or by email